Viewpoint from the Nest :
Coyhaique may not be the most isolated place we've been to, but it feels that way. It's certainly one of the most beautiful. Located in Chile's Southern Patagonia, it's among the least explored regions in Latin America. It's certainly a favourite of ours. We were there in October, which is early in the season, and definitely still very cold.
This isn't necessarily the easiest place to bring kids; but the sparseness of human activity makes you feel like an explorer of a vast untouched wilderness. The initial lure were the Marble Caves on Lake General Carrera, which alone is worth the trip. Of equal allure were the Leones Glacier and an unmarked waterfall we hiked to; the most wonderful aspect was the serenity from being the only people there. The sense of isolation is what you would expect in a trip to Antarctica or New Zealand; except here, you're really alone. It took us two flights, followed by a 7 hour road trip on dark gravel roads under construction to get there. There are few hotels, and only a solitary petrol station shared by several small towns. As the head of tourism for Chile said to us, "Coyhaique isn't quite ready for tourism", but this made it even more appealing. We finally found our unspoilt paradise.
Travelling there with kids will require some precautions. There aren't that many shops, so you have to come prepared for extreme changes of temperature. The weather can be fickle, as there is a micro climate on the lake, which is South America's 2nd largest. We were only there for three nights but it fills a much larger space in our memories. I still dream about it.
The Marble Caves and Marble Cathedral
The caves lie in the midst of Lake General Carrera, the largest lake in Chile; it shares a border with Argentina and is known there as Lake Buenos Aires. We like the indigenous name best, Chelenko, which means the Lake of Storms. This is a glacial lake, and we took a small raft from our lodge, a journey of an hour and occasionally buffeted by strong gusts of chilling wind. It was calm at the site of the caves themselves, which rise otherworldly out of crystal clear blue waters.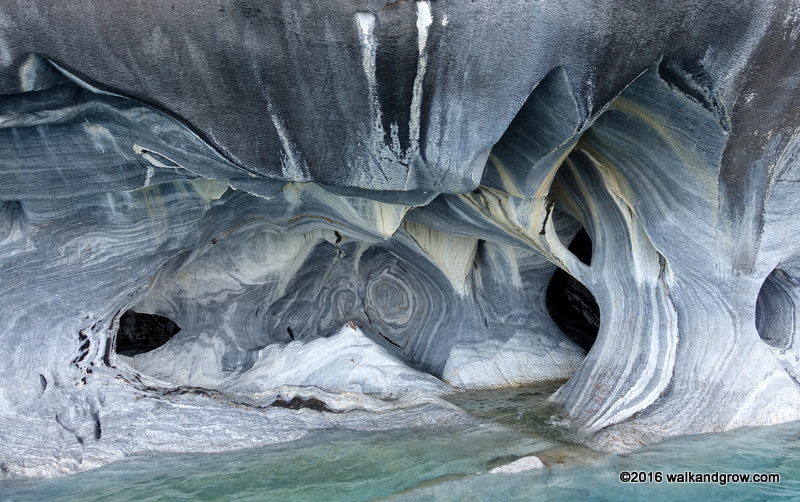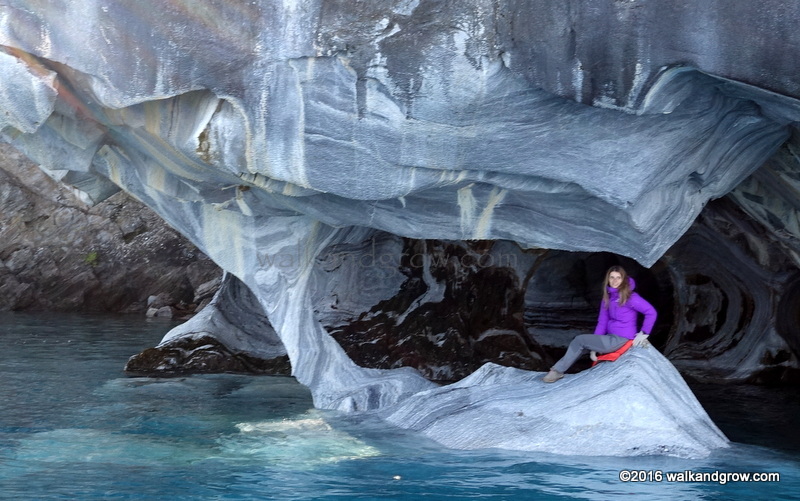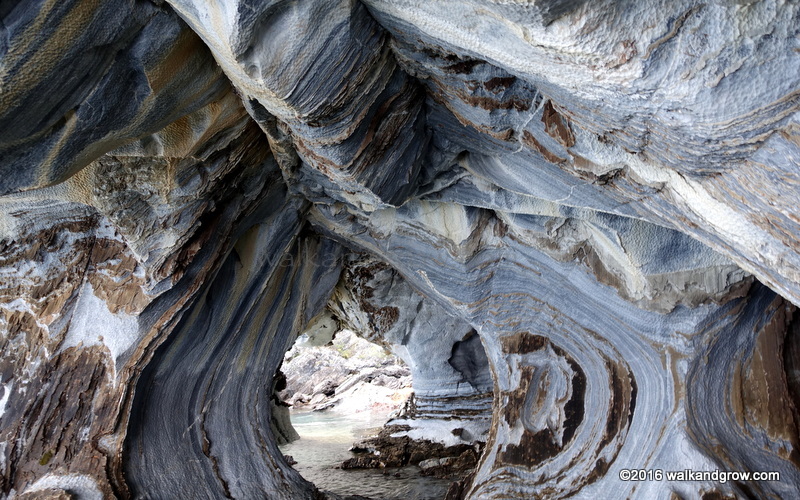 We wanted to row to the caves, but were told that there were no kayaks available. Retrospectively, it would have been way too far; and critically, capsizing in the numbing waters would be an unacceptable risk with kids. Doug Tompkins, one of the greatest conservationists of our times, and the founder of North Face, died from hypothermia after capsizing there a month after we were there.  We had just met him just a few weeks prior to our trip in Puerto Varas, where he was sharing his visions of Nature Conservation by buying huge tracts of pristine nature, with the plan to turn them over to governments who would preserve them. He was kayaking with a team of seasoned adventurers, including one of the first Americans who climbed K2, and with the founder of clothing company, Patagonia. The weather turned suddenly, and although they were towed to land by a helicopter, the extreme cold was too much for him.
We've been on many adventures, but underestimated how important is to be prepared; and how to respect our inexperience with nature. When we were on the lake, we saw how bright blue skies would turn ominously dark and grey, and back again. How the winds would suddenly whip across our boat and the waves would resemble a choppy sea. So, if you're travelling with kids, it's better to visit with a motorized boat. We wouldn't be able to contact a helicopter.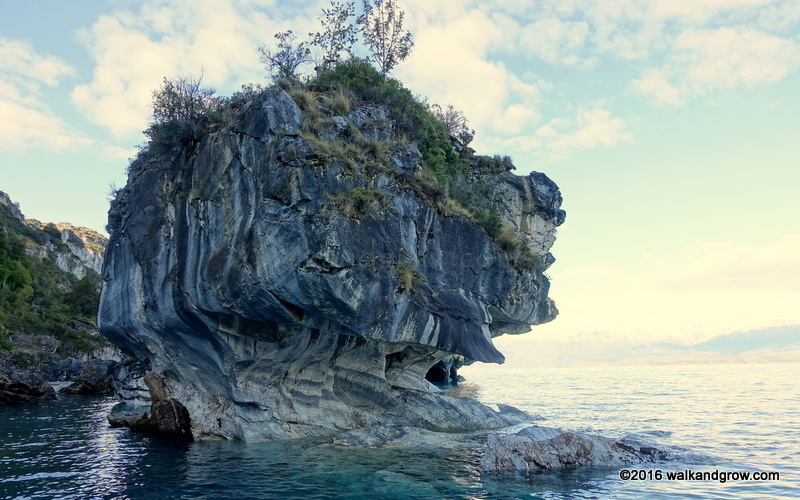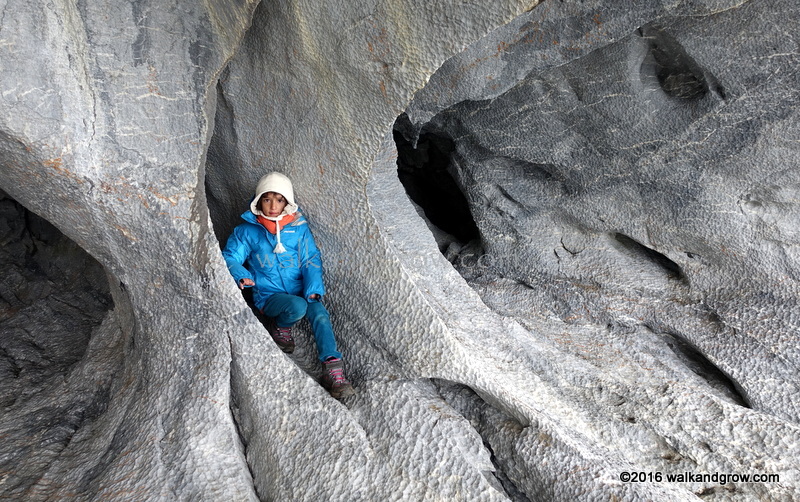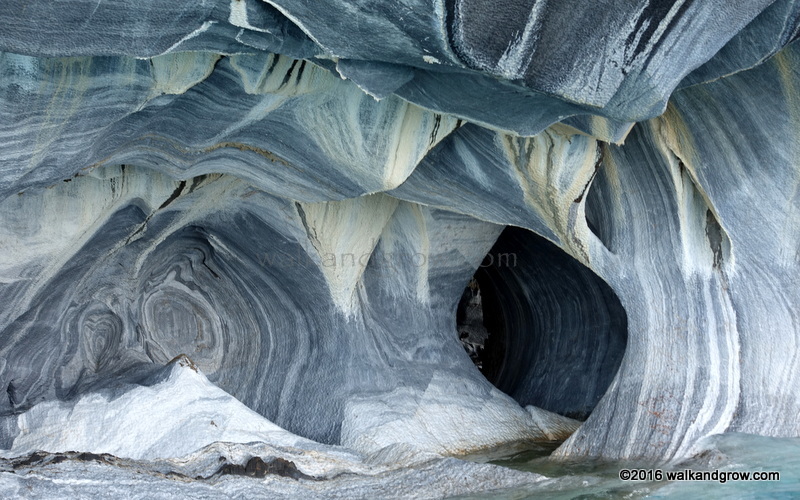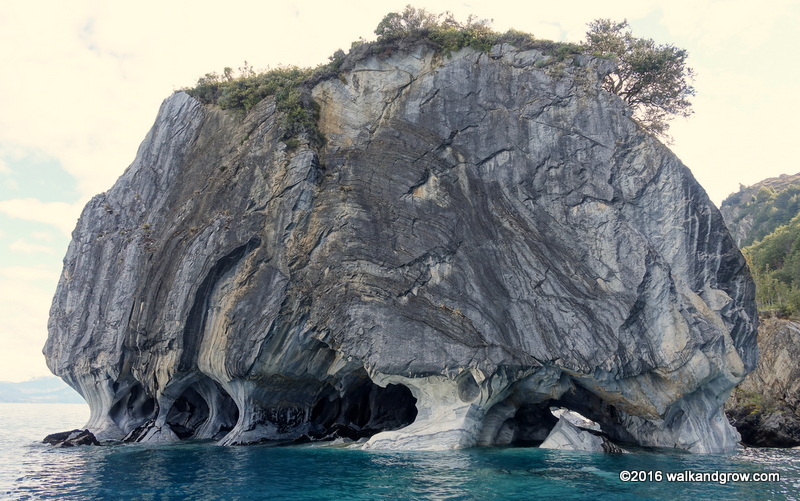 We flew from Puerto Varas to Balmaceda Airport, and then took a 7 hour drive to our lodge on the General Carrera Lago. Roads were under repair, which resulted in a 90 minute delay, and some of the roads were gravel for long stretches. Drive during the day as the roads aren't lit. We rented a car at the airport, and had a flat somewhere out of phone range, so make sure you have a spare. It's an adventure!