Viewpoint from the Nest : Travel parenting insights
The Torres Del Paine is not a walk in the park; fierce winds and an unpredictable climate can make it wilder than most other reserves we've been to. Boasting everything from glaciers, lakes, valleys and gorgeous hikes, it's worth the small effort of having waterproof clothing, and some measure of patience to deal with the weather changes. Most of what's written about the park focuses on the more challenging treks, but there are many shorter walks for families with younger children, and importantly, the wilderness of the terrain makes the journey more interesting for them. The capricious weather gave us everything from blue skies, grey rainy afternoons and torrential rains.
The highlight of the trip were TWO puma sightings. Some guides told us that they've seen the cats once every two months on average, so we weren't holding our breaths. The first sighting was a tailless female, featured in the BBC's Patagonia documentary. She was stalking guanacos (the wild version of the domesticated llama); the first offspring in the herds had arrived and she was looking for young outliers.
The second puma was stalking Colette who was exploring at the edge of our "herd" of tourists, amongst the stromatolites at a tourist lake. Pumas usually avoid people, but this one surfaced right above Colette, ready to pounce. I called out to her, and she walked calmly away, saving us from a tragedy. Our guides told us they've never heard of something like this happening before.
And we learnt that kids make good puma bait. Something new every day.
Apart from feeding the pumas, there is an interesting mylodon fossil cave, which sparked a local hunt for an extinct animal. Also lots of guanacos, the lesser rhea (which is a miniature ostrich), condors and deer. The wild life is worth the visit, but what makes the park special, is the extreme wilderness you encounter.
Sometimes closer than you'd like.
The puma who came for lunch
This was a situation probably more dangerous than we'd like to acknowledge; pumas are not often seen, and this one emerged fixated on Colette, following her along the ridge for a few seconds. She had not seen it. If she ran, it would have pounced, and they can cover 13m or 40 feet in one leap. We had previously learnt from a visit to a cheetah sanctuary that the cardinal rule with big cats is "Do Not Run". I don't know how Colette would have reacted, but when I called her over to me, and asked her to walk slowly over to me, she complied. It isn't something she always does. The puma saw me, gave Colette one longing look, and turned away. She was then spotted by our friends, Mike and Jane Burgess over the next ridge. The guides arrived minutes later, not believing that we saw a second puma that day. Or that it could have possibly been stalking a child. That was indeed a "close one".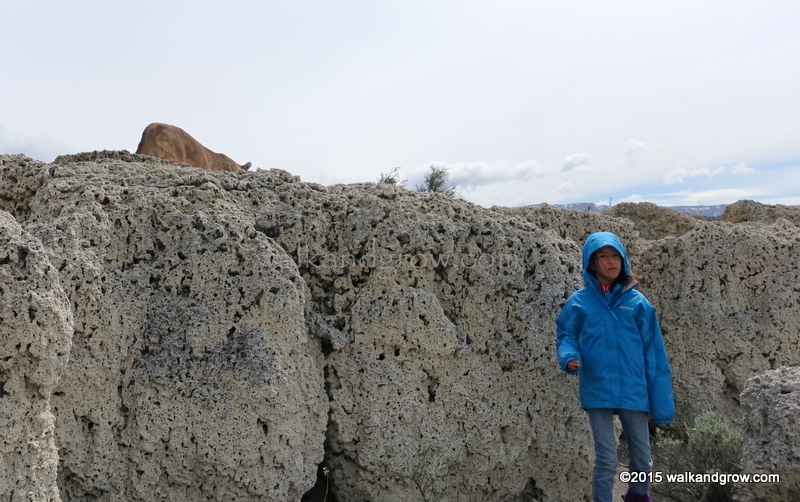 I'm often asked about how I could take photographs with a puma lurking; what I can say is that all this happened in a couple of seconds, that it was calmer for Colette if I didn't suddenly change my behaviour, and that I'm good at multi-tasking 🙂
The World's Oldest Fossils
Before the puma showed up, we were busily studying stone structures called stromatolites, which were created by cyanobacteria eons ago. The cyanobacteria were the organisms which first generated oxygen, making our planet habitable for most life on Earth. Colette was totally enthralled by my scientific explanations. Luckily the puma came to liven things up.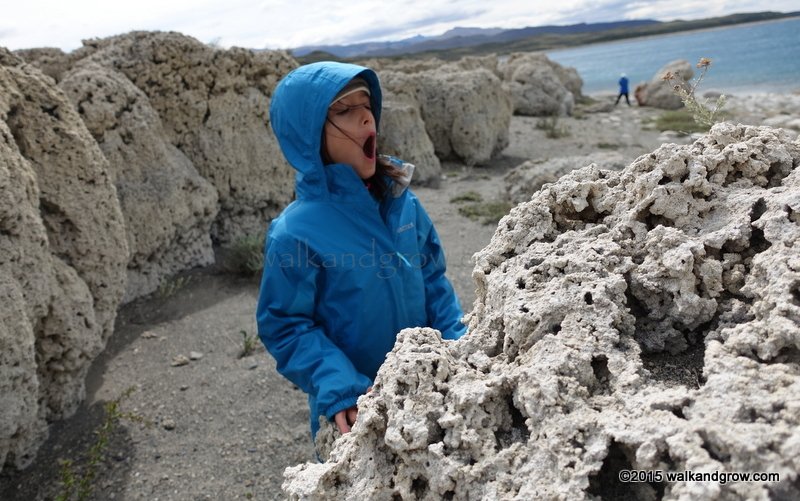 The Cordillera Paine
So whilst I was arranging for Colette to play with some cats, Judith was hiking up to the Torres del Paine (the Blue Towers) which is part of the Cordillera Paine, the mountain group in the centre of the park. It's an incredibly beautiful hike, but not easy enough for younger children. There are places to climb, and most hiking groups move fast as the distances will require most of a day to cover.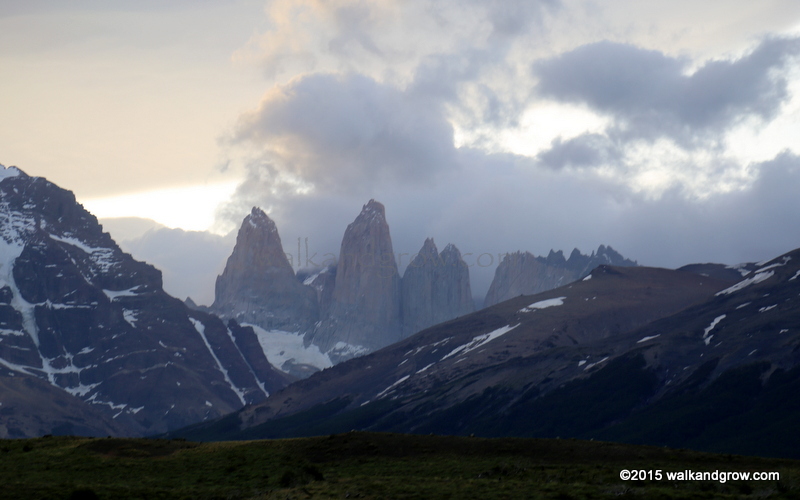 Here's Judith's blog on the climb.
I have been dreaming for months to hike to the Torres del Paine Tower Base, one of the world's most iconic trekking routes.
Our group of 10 embarked on a sunny morning with the three granite towers in full view from our camp.  It's an 18 km extraordinary round-trip through primeval forest and blooming red fire bush, over bridges and big rocks.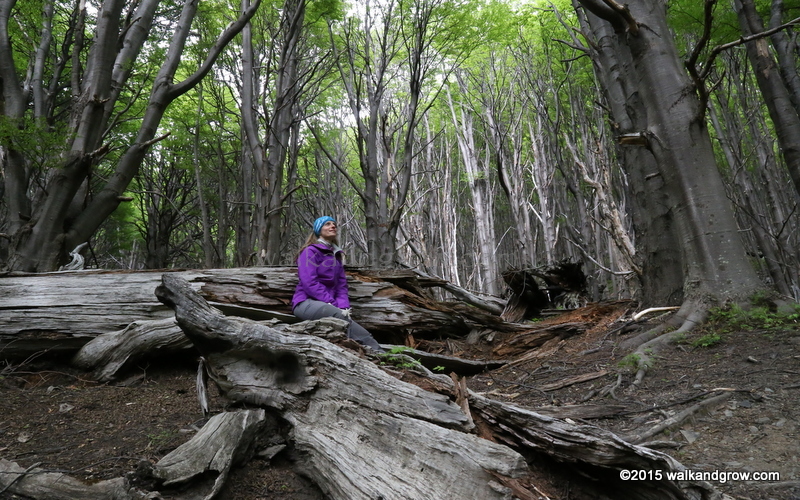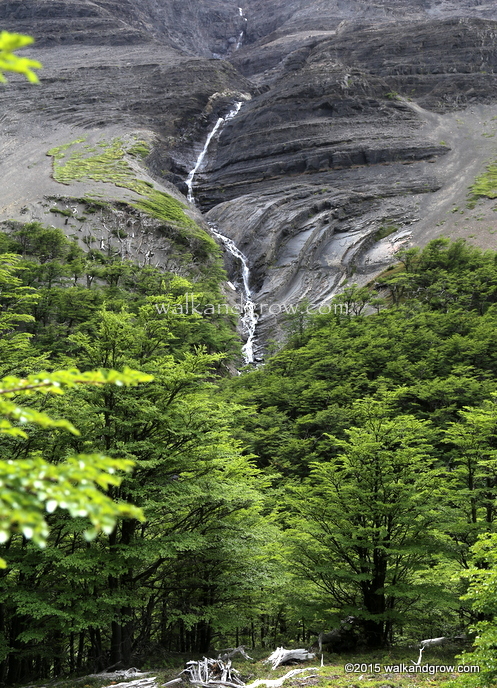 The Patagonian weather however is notoriously fickle and what started out with a brilliant blue sky, turned into grey and rain, leaving us struggling against the winds on the narrow trails.  
Glimpses of the mighty Paine Towers were feeding our trek-hungry souls every step of the way!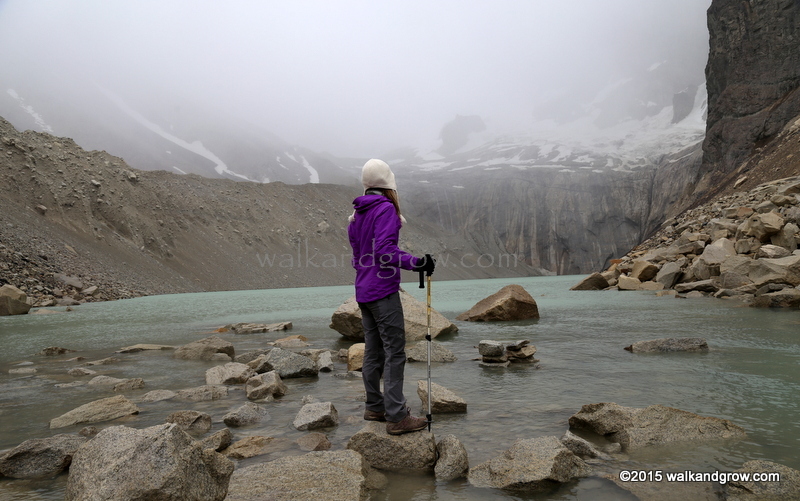 Reaching the milky glacial pools at the top was stunning, though the towers totally disappeared in the fog and hail.
Still, I consider myself very lucky to have climbed these epic mountain ridges despite the crazy weather.  It was definitely the highlight of our Patagonia adventure and I cannot recommend it highly enough!
Like they say, there's no such thing as bad weather, only bad clothing.  So come prepared.  
I'm Guanaco(ing) on a Hike
There are many gorgeous hikes to be done in the park, and it comes packed with guanacos. Guanacos are the wild counterpart to the domesticated llamas, and related to the wild Vicuna and the domesticated alpaca. We came across many herds of guanacos, which consist of females, their newly born young and a dominant male, who spends much time chasing off young pretenders to his flock.

Colette was able to get really close to the guanacos, much closer than adults wold, and often did so. Like the llamas we encountered in Peru, they do spit if they feel threatened, but obviously she didn't appear dangerous to them.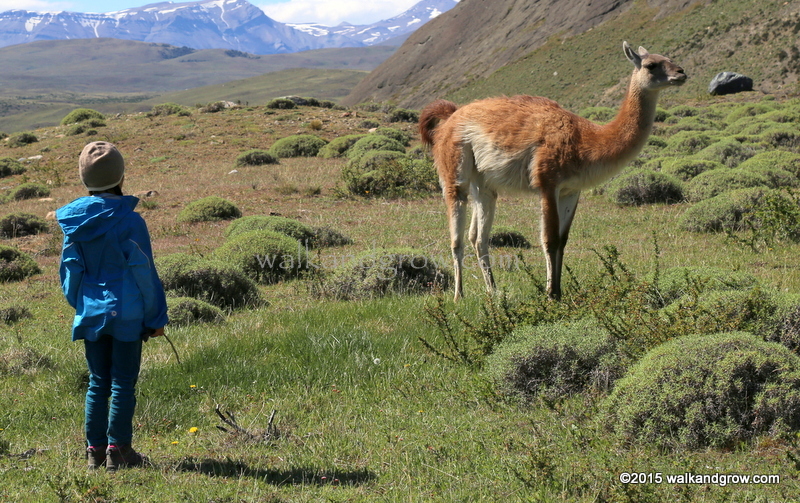 We were also able to see what happens if a puma successfully hunts a guanaco. This should have warned us that there were pumas around. There was a particular fence which the pumas liked to chase their guanaco prey towards, hoping they would trip whilst fleeing. Based on the number of bones we saw, it was a pretty successful tactic.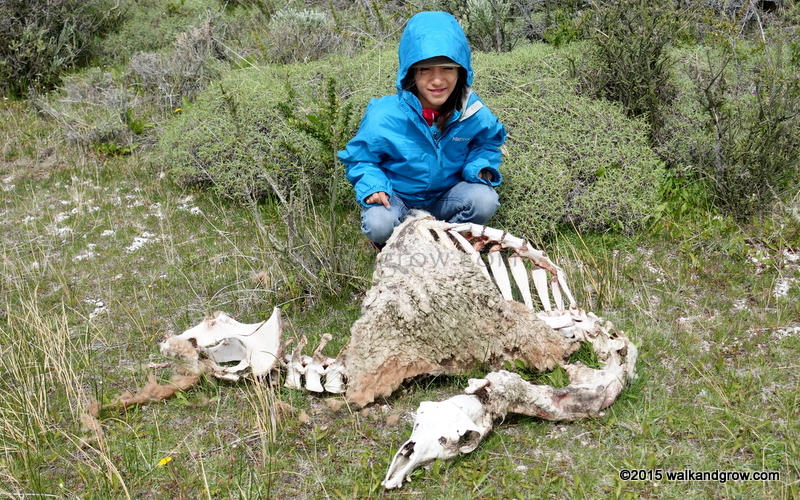 The Mylodon Cave
The mylodon is an extinct giant sloth, leaving us over 10000 years ago. When the cave was discovered in 1895, it contained an incredibly well preserved hide of the mylodon. Subsequent diggings found more hide, bones and dung. Their fresh appearance caused a scramble to find a living mylodon. All that remains now is the cave and some educational signs, but it is a good site to explore with kids as the cave is quite large, and quite stunning when it's not too crowded with tourists.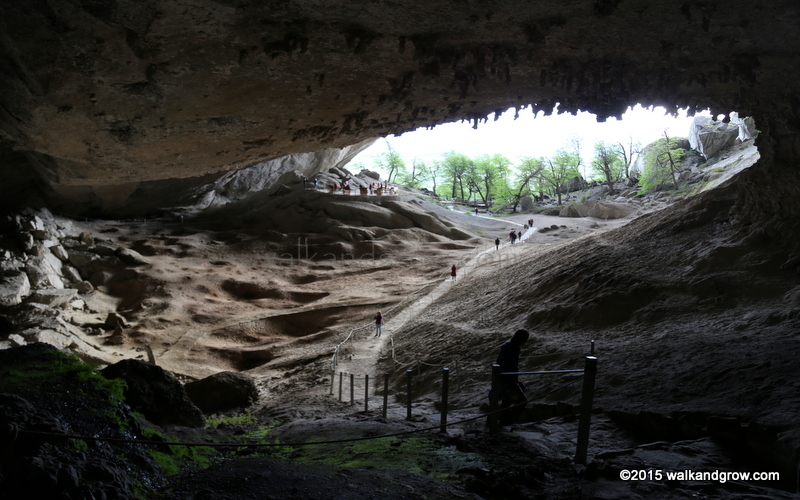 Finally, just a few photos to convey the beauty of the park