Viewpoint from the Nest – Travel parenting insights
The Pantanal is enormous, so what we saw was just a tiny portion of it, but what an incredible portion. The second fazenda we stayed at didn't have a river but had several lakes and was a working cattle ranch. As with most fazendas, there were only a few simple rooms, a common dining area, which makes for a very intimate atmosphere. Almost everything we did there revolved around horses. They were the simplest and best way to travel across the sometimes marshy range, and made it easy and interesting for our daughter. The horses were gentle, responsive and a breeze to ride; importantly, they weren't trained to follow a "tourist route" and therefore great for both beginners and experienced riders. We were there in spring, so we saw several cows calving, and followed the cowboys whilst they rounded up slightly older calves whose ears were being clipped for identification. There was an abundance of birds, and an occasional caiman. We learnt how to fish for Piranhas, and our young daughter picked it up intuitively. After several piranha fishing trips, she was better than any of the adults, despite my best efforts to keep up with her. This was the dry season, so we had access to some of the places which would be several meters underwater; the wet season has its advantages with an explosion of wildlife, and is an excuse for coming back again. The opportunity for an 8 year old to control a responsive horse did wonders for her riding confidence and skills, so much so that a horse coach in Chile noted that she was extremely natural. This was a thoroughly involving experience that sits up there with the best we've been on, and a great place to learn about wetlands wildlife, horse riding, fishing and how a cattle ranch is managed.
The Pantanal, which translates from Portuguese, means the wetlands or marshes. However, it's a huge, with the largest estimate to be nearly the size of the United Kingdom, and extends into Bolivia and Paraguay. Given its size and diversity, it contains a vast range of habitats, with over 700 species of birds and many different types of fauna. We stayed in two different Fazendas (local lodges) each with 4-5 rooms, so the atmosphere was genuine and activities flexible. It was so comfortably uncommercial, it made our next experience in Manaus feel slick and impersonal. Definitely spoils you. This part of the Pantanal was vastly different from the River Negro, even though it was just a couple of hours drive away. This was cowboy country where the Fazenda was an operating farm with large herds of cattle. The herders were native to the region, and in days past, lived in communities tied to each landowner.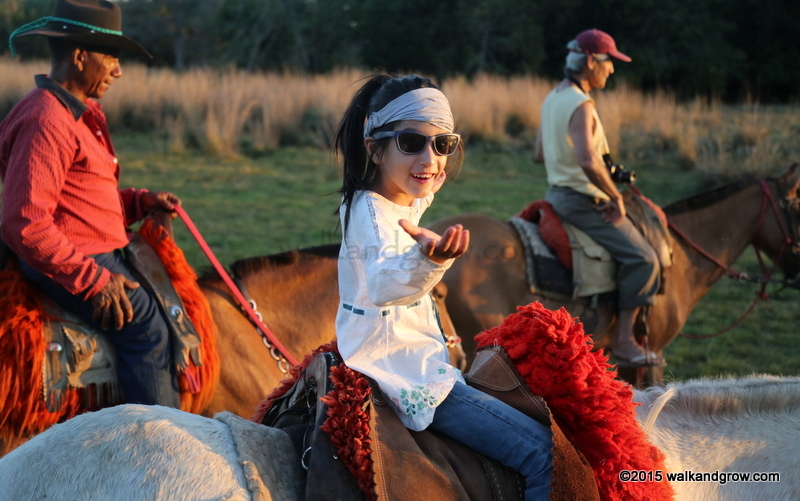 The Pantaneiro horses here were very easy to ride; very responsive, calm and adapted to the marshlands with extremely strong legs to push out of the mud. They were a wonderful way to explore the area, which was teeming with birds and animals. Although there were no jaguars or pumas, we did come across the very rare and elusive lowland tapir, and a giant anteater. Sergio, our guide and friend, who is an enviable mix of being wise and cool, was calmly excited by this sighting, which is as in the same league as finding an anaconda (which we would find later in Peru) or jaguar.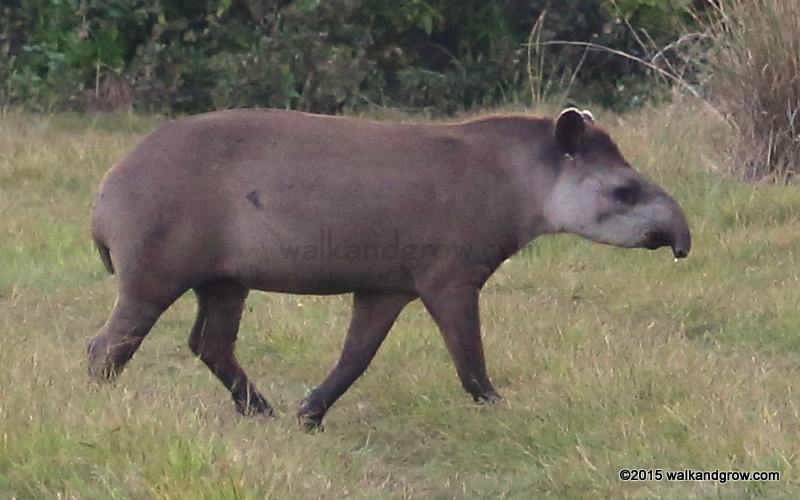 His depth of knowledge and local insights transformed the way we saw this land, and even Judith got interested in the birds. At least the more interesting ones, including this pair of burrowing owls, who live in a hole in the ground, and the hyacinth macaw, the largest of the macaws at 1m in length.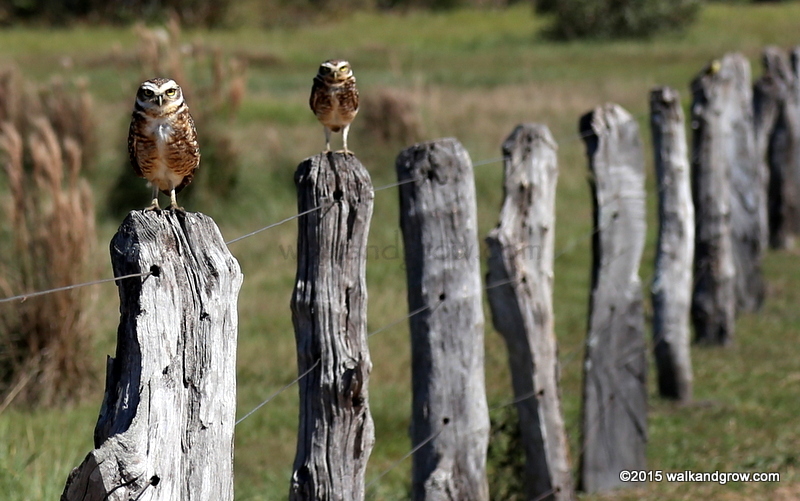 We did spend a day with the cowboys, and it was the season for new births, and rustling up new calves and tagging them. This involved lassoing the calves to separate them from a protective mother, and then clipping their ear. Although we didn't get to lasso a calf, we did see a live birth (below) and spent quite a lot of time with the cowboys. It isn't simple raising cattle here though; the lands historically flood for 6 months a year, necessitating long cattle drives to take the cows out of the area when there is little grazing to be had. However, with climate change, the rains just haven't come sufficiently over the past several years. During the dry winter season (July-January), huge fields of bush and small plants dominate the landscape; these will disappear under meters of water when the rainy season comes and turns the land into a water world. Sergio informs us that the termites can predict the years of great rain, and will build their nests higher accordingly. However, the spectre of global weather change is real and tangible here; it's been many years since the predictable rains have failed to come in volume and duration, significantly reducing the fish stocks, and consequently the number of birds in the area.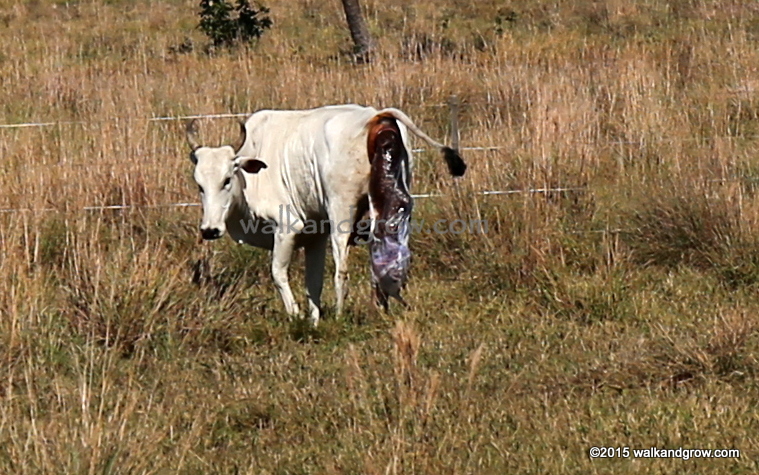 Piranha fishing is commonly offered as an activity in the Amazon, but we were surprised to find them here in Pantanal lakes. They are harmless unless you enter the water bleeding as they are carnivorous and attracted by the scent of blood. It's pretty fun, and involves often re-baiting your hooks with meat as they are fast. Colette and Yi Ta both caught several fish each, and the larger ones were kept for soup or for deep frying; both dishes reasonably tasty. They do have fearsome teeth, strong jaws and we were very careful not to find them snacking on us.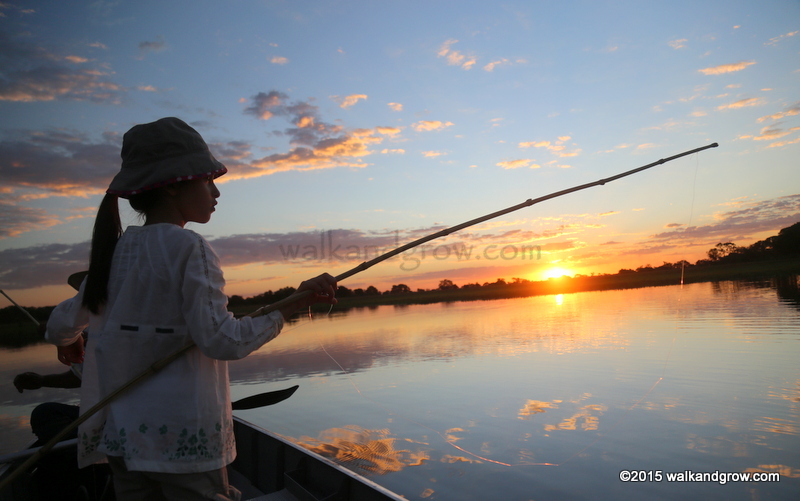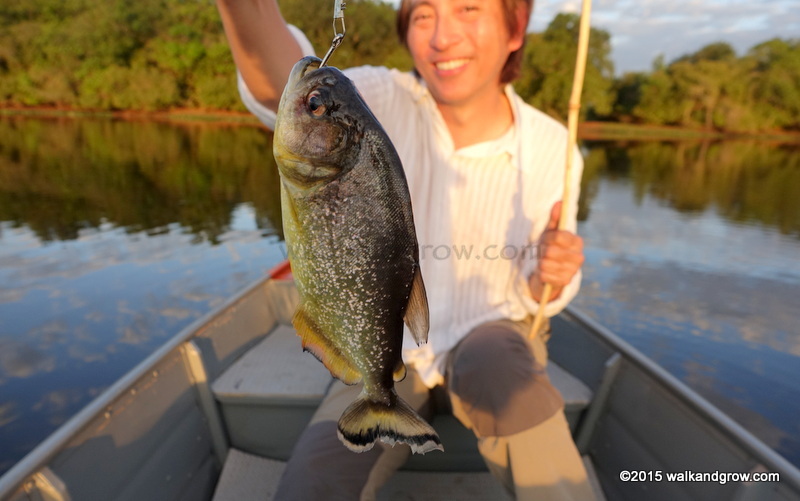 It was beautiful though, fishing at dusk with the twilight setting the water on fire. The Pantanal experience was magic; we all became much better horse riders and picked up some fishing skills. What remained most with us were memories of one of the most enjoyable and involving experiences we've had anywhere in our travels.