Viewpoint from the Nest – Travel Parenting Insights
A very respectable and sensible doctor in Singapore reprimanded us when I enquired about the right dosage of Diamox for an eight year old for 4000m (12000 feet) along the lines of: "I think what you're planning to do is very irresponsible. Why would you want to bring a child to such a hostile environment? There's no reason to go there!" That comment bothered us, and briefly made us reconsider our plans. Fortunately, it was very briefly.
The Uyuni Salt Plains are amongst the most barren and stark landscapes imaginable, different enough to make you believe you're on a different planet. It has stunning endless flat white plains that disappear into the horizon, colourful lakes inhabited by flamingos, geysers emitting obscuring clouds of steam, and thousand year old cacti. We went in August, during the best weather, but at times it was bitterly cold, down to -20 degrees Celsius with the strong winds. We went up to, and spent the night at 5000m. You would think it would be difficult for an 8 year old. Not even remotely.
Colette wasn't fazed by the altitude or the temperature. She played football, climbed hills, ate salt (perhaps too much salt), investigated mummies, explored caves; the altitude didn't bother her, and neither did the weather (with the right apparel). At times the winds were too strong, but during those times, even some adults chose to stay in the vehicle. The slow acclimatization through Sucre and Potosi meant she didn't have to take Acetazolamide, even though the adults did. Kids are better suited for adapting to altitude it seems.
We learnt about tectonic plates, inland oceans that dry up, how geysers and volcanic mud pits look up close, dipped in sulphuric hot springs, learnt how lithium is mined, and learnt how to adapt for hostile environments. It gave us an appreciation of vastness and an understanding of perspective in photography. We met thousand year old mummies still sitting in the caves where they've been waiting.  Stayed in hotels made of salt. What an incredible learning experience, and not only for kids.
Too hostile an environment for a child? Not at all. You'll just have to make sure you've prepared for the weather. We had our own 4×4 vehicle which meant we could move on our own schedule, which is advisable as kids need more sleep, and we weren't holding back the energetic backpackers we often encountered if you shared one. A good hotel meant we weren't exposed to the weather, and the food would go down well, since you do burn a lot of energy. Nothing you wouldn't do otherwise when travelling with young children.
Recommend this for a family? Absolutely. The joy of watching a child discovering what our planet is, is worth every grain of salt.
The Salt Plains and feeling very small
To begin with, Colette made it clear that bringing her to a place that was so freezing cold, with drives that last for hours only to arrive at an even colder place wasn't her idea of a good time. She was a little annoyed with us and wanted to make it clear how she felt about it.
However, after much persuasion, she did realize that there were lots of fun things to do, so all discomforts were soon forgiven (but not forgotten). Kisses ensued and all was loving again.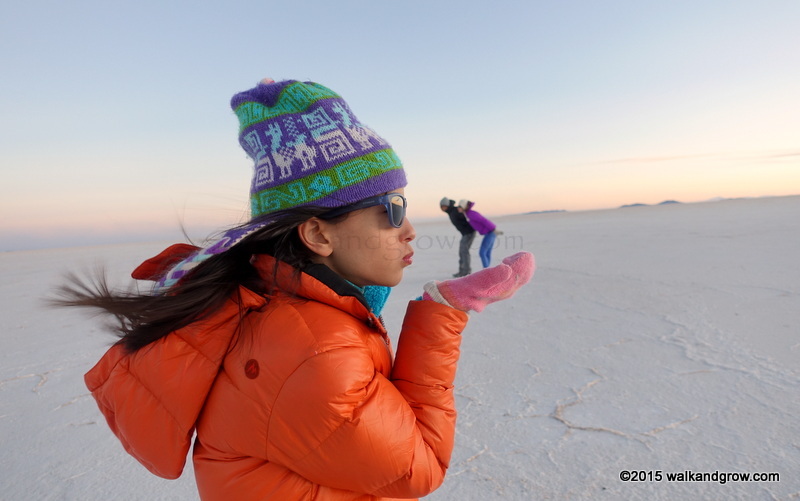 The enormousness of space expanded our perception, as even our eyes lost sight of the usual boundaries. Things didn't seem far, and yet, nothing felt near. I was dropped off to hike in the midst of nothingness for what felt like hours, accompanied only by the sun sitting relentlessly over my left shoulder. Closing my eyes for hundreds of steps, and re-opening it later to find that nothing had changed and it was like I never moved. I came across a small empty drink carton, a beacon of colour in a pale world and kicked it forward to break the monotony; it should have been my companion on this trek, but the wind whipped it up and carried it forward ahead of me. I walked faster to draw nearer, started running, and then began sprinting. It flipped and flopped lazily out of reach and eventually out of view. It seems trivial but it was humbling not being able to catch a small box that was rolling on the ground and knowing nothing would stop it for miles.
Underage Drivers
Another experiment we did was to let Colette take the wheel of our land rover. She was on my lap but here we were barrelling at 80km/hr, confidently steering us after our guide car in the distance. It wasn't as dangerous as it sounds as there was nothing to hit, slide on or flip on. After 20km, she got bored but we found out that she was pretty good at steering but not at reaching the pedals. Still, I can hear the echoes of the accusations of irresponsibility, but by now, I was pretty sure he was wrong.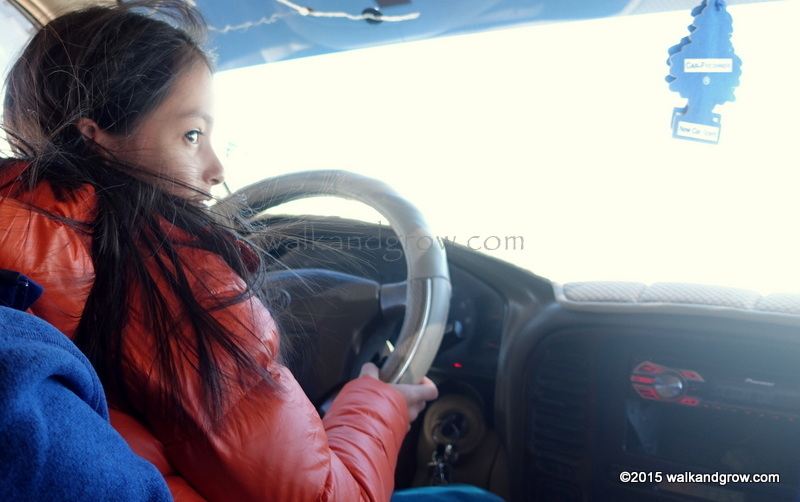 We learnt that the salt plains are a major source of lithium, which is what powers our batteries and the Bolivian economy; they control 50% of the global supply. That the salt flats are the remains of an evaporated ancient inland sea created by the clash of the Nazca and Pacific Plates. That it's dry except for the rainy season in January to April where the land becomes the world's biggest reflective mirror. That Incahuasi Island is an ancient volcano that is covered in fossils of corals millions of years old. Still, it's the emptiness that is the most liberating.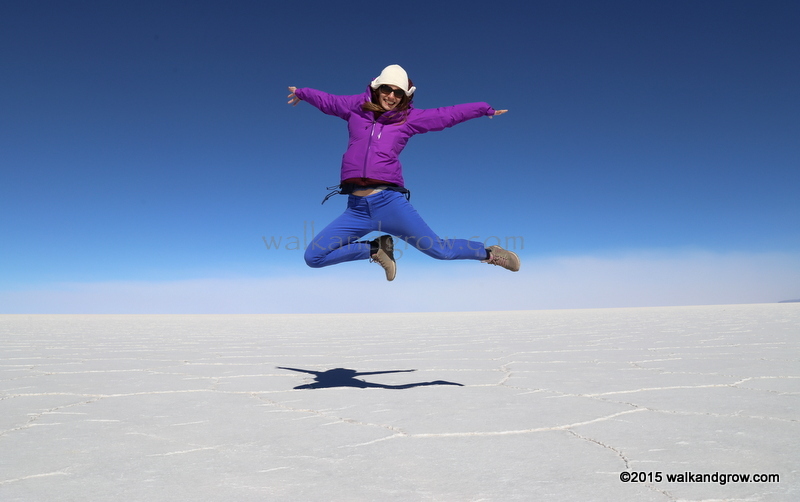 Mummies, Derelicts and Monoliths
There is a haunting facet of Uyuni, where you're reminded of how desolate the place is. We drove far and hiked up to a cave where a family of thousand year old mummies have been waiting, preserved due to the extreme dryness of their surroundings. Amazingly, they're unguarded and respectfully unmolested by the tourists who have visited. There are no explanations, no placards, and no protective barriers.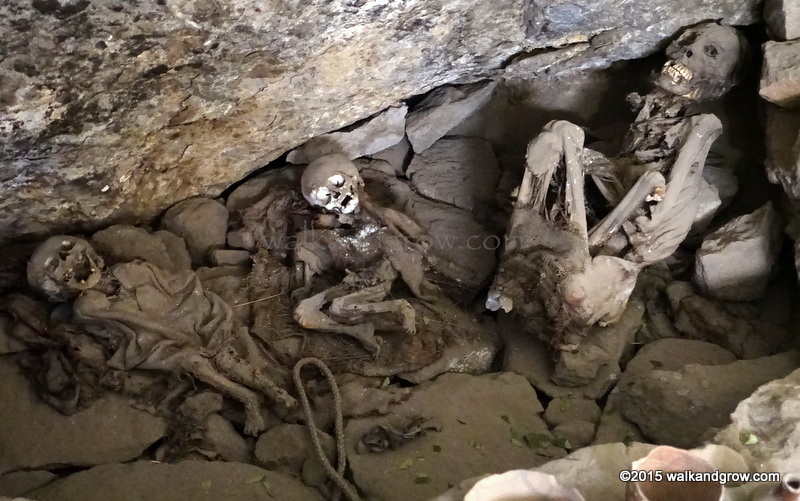 As we turn to leave the cave, we realize that there is a guardian after all. A most fearsome Puma is sitting above us, with sharp fangs and part of his skull cut away, snarling down from its perch above the door. This was much more unsettling than the human mummies, as we've rarely come across mummified remains of beasts.
There is also the graveyard for antique locomotives. Huge metal skeletons that sit on an empty landscape, inviting you to enter their barrenness. The wind here is strong and cutting, making the environment feel even starker. It was built in the 1890s, and abandoned in the 1940s when the mines they were serving collapsed.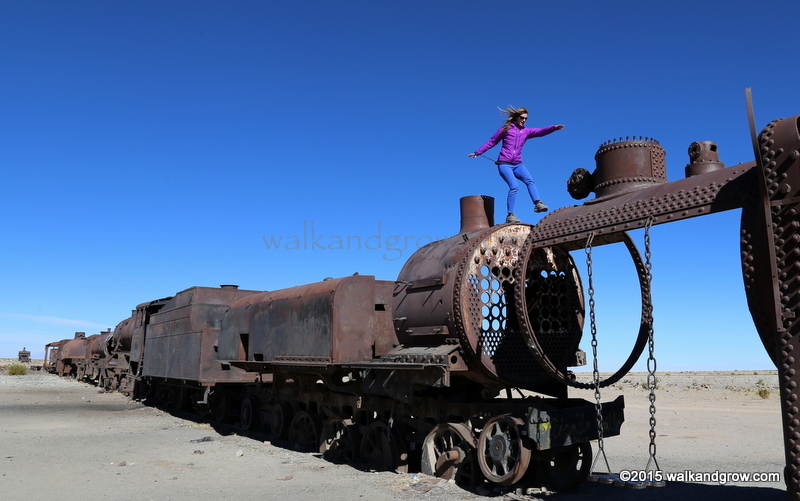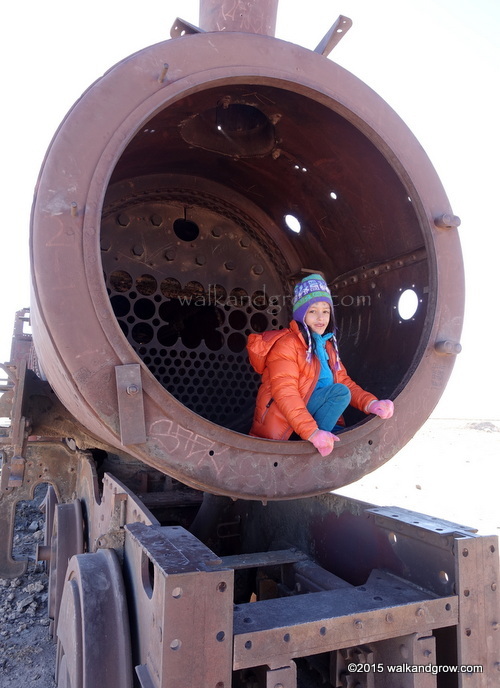 There are also magnificent wind carved stones, and a reminder of what happens if your car does break down in a place where phones don't work, the wind is vicious and there are no roads that lead to you.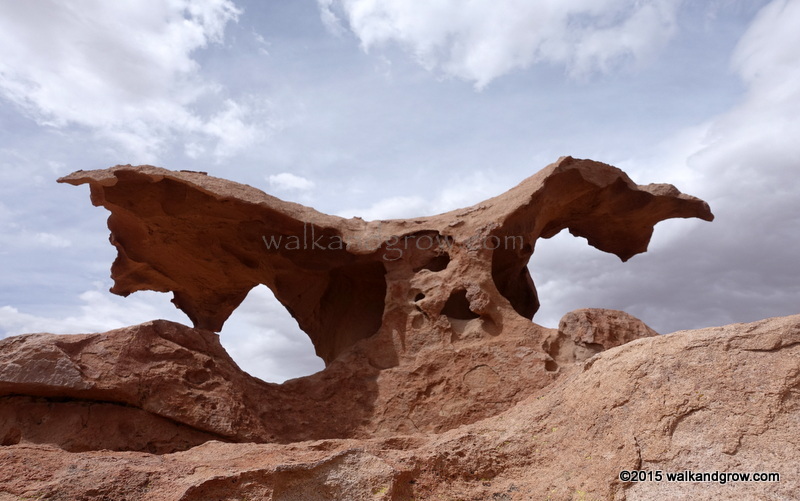 Lagoons and life on Mars
There are pockets of life though, some of it magnificent. There are three species of flamingos that come to breed in the lakes which are spread out across the plains. Some of the lagunas are dead but incredibly colourful because of the high mineral content, but others do harbour life. The Laguna Colorada is red but surrounded by such strong winds that many of our party decided to stay huddled in the car. Temperatures go down to as low as -20 degrees Celsius with wind chill, so we needed our arctic clothes.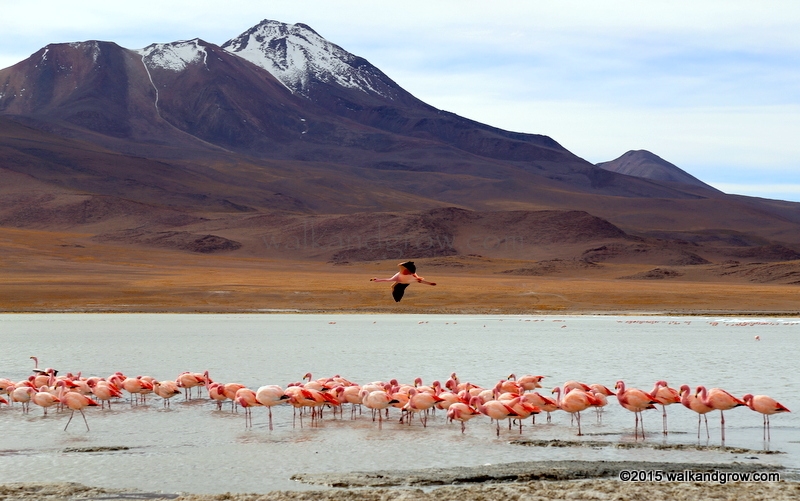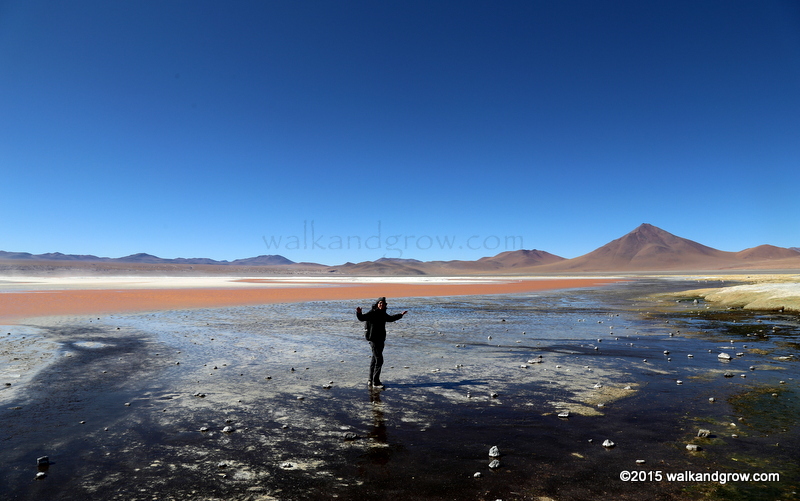 The most incredible creature looked like a rabbit grafted with a fox's tail. The Viscacha is a climber as well, found high above us in rocky crevices. An extremely shy rodent, it's found only in Latin America.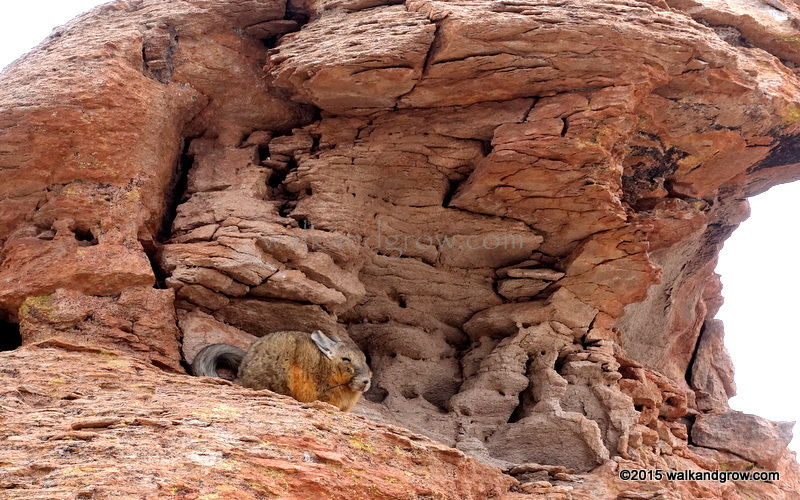 There are also geysers, thermal pits and hot springs. We spent a night at 5000m (16000 feet) and it was cold but bearable. We soaked in hot volcanic springs, but realized that we would have liked them hotter. Getting out was the problem. We walked through deadly sulphuric clouds imagining that these could be the gates to some form of hell. If only the surroundings weren't so beautiful.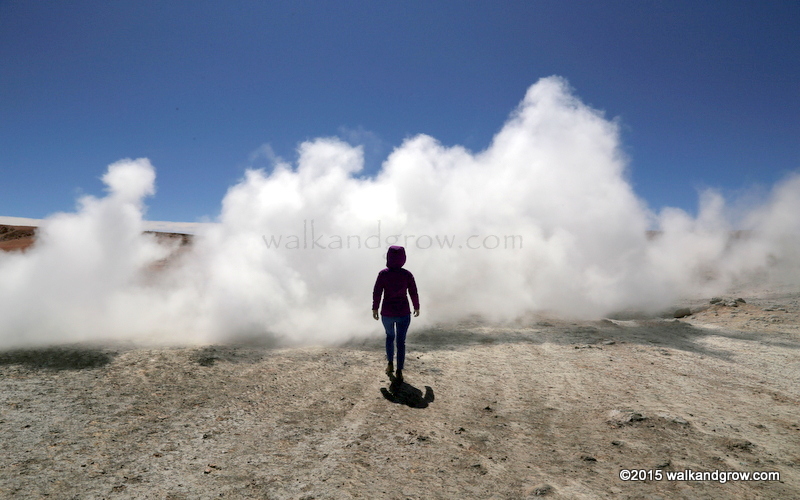 Experiential travel shapes the minds of young children by removing the limits of what's possible, builds their confidence about their physical abilities and gets them interested in the world around them. More importantly, it allows parents to continue their adventuring, and not limit their travel to when their families are much older. And Uyuni is one of the great experiential adventures on our planet.